Royal Cabinet Company In Our Clients Words
---
We know that third-party endorsements are crucial to making a decision about a kitchen design firm, or cabinet company. To help you get a better feeling about the professionals at Royal Cabinet Company, we have included a number of client testimonials for your consideration. We look forward to posting your kind words after working with you.
Dear All at Royal Cabinet:

I want to thank you from the bottom of my heart for your hard work and dedication to producing a great kitchen, bath, dining room etc for me. I know how challenging this project was and truly appreciate your creativity and commitment and staying power to the very end to deliver a great product. You can count on me for an enthusiastic testimonial on the quality of your work and your commitment to your customer.

You all have an open invitation to visit at any time you're in the neighborhood and to take pictures of your spectacular creation.

Thank you again,

Cerise
Place your mouse over the text of the letters below to read what our clients have to tell us!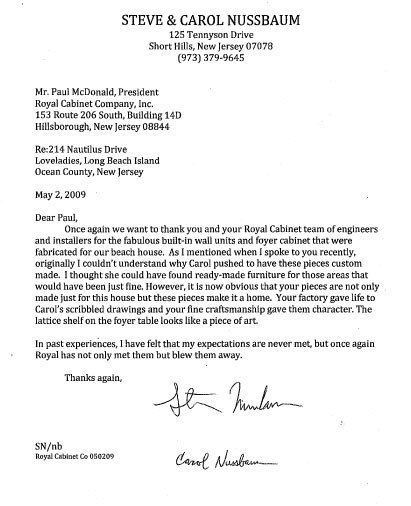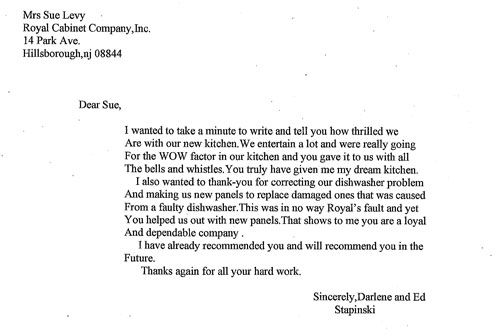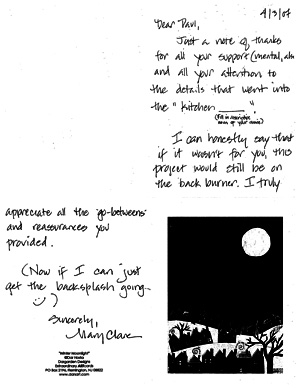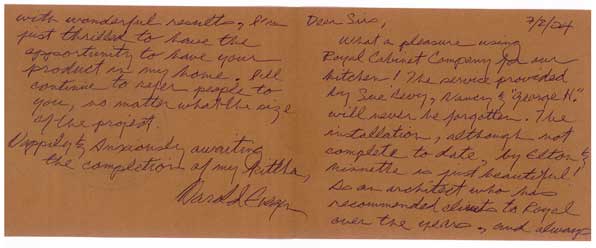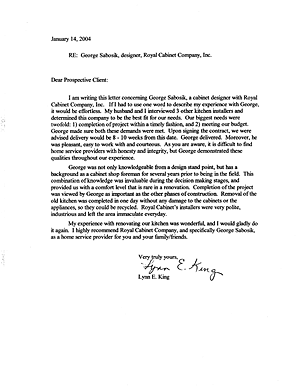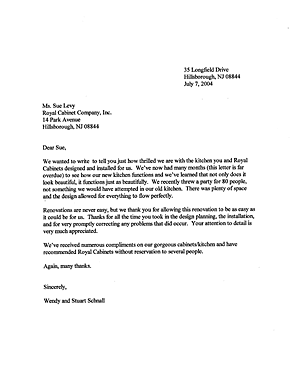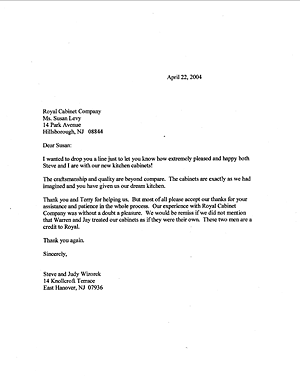 "We just wanted to thank you for the excellent service you and your salesman, Dennis, have given us on our kitchen remodel.

I had seen your cabinets in builders' spec and custom homes and thought they were of sufficient quality to install them in a $1million+ home.

When we started the planning, I let you know I had a tight schedule. I was able to meet my project goal plus two weeks. Quality, expeditious delivery and personal service/response time were the key factors for us.

Dennis' follow up was terrific. We would not hesitate to order from you again and will recommend you to friends and clients."
Michael and Carolyn Galant
Madison NJ

---
"I have had the pleasure of working with Royal Cabinet for seven years now. They are capable of handling all ranges of work- from cabinets for buyers working with just the standard allowance all the way to those who want complex custom work where "the sky is the limit".

In addition the sales staff and engineering support, Royal Cabinet has in-house installers who are connected to the office with cell phones. When there is a problem in the filed, like a sink that does not fit, my super can make a call to their office to get help. Nine times out of ten, Royal can redirect one of their field people to take care of the problem on the same day."
T.R. Powers Home Building Corp
Branchburg NJ

---
"One of the best things about Royal is that they are the manufacturer at their facility; this capability gives them control of the production variables that other cabinet suppliers do not offer. When we were ready for cabinets, Royal was there and completed the installation on time. Royal stands behind their product after the sale is made. Their installers are polite and presentable."
Jackson Home Companies
Summit NJ